Welcome to the (re)launch of Singapore Psychologist – SPS' quarterly flagship magazine first published in the 1980s!
With a unique Singaporean flavour, Singapore Psychologist is SPS' strategic effort to initiate important conversations and discourse surrounding psychology here at home.
We hope our articles will inspire ideas and meaningful conversations for you and those with whom you share your thoughts. As we aim towards making psychology literature more accessible to the general public, we also seek to celebrate the original works of both students and professionals alike.
Read on and get psyched!
---
Singapore Psychologist #12 (Q3 2022)
In this issue, we delve into education and lifelong learning, understanding how psychology informs these processes. We discuss critical thinking, thriving in university,multisensory integration and much more.
---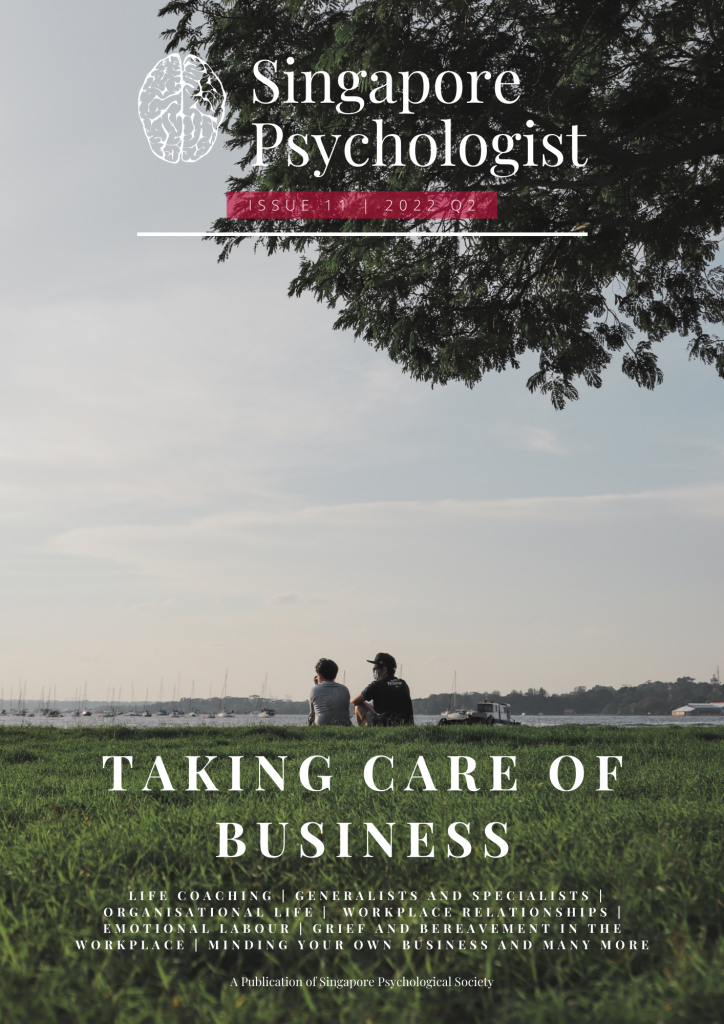 In this issue, we explore what it means to take care of businesses from a psychological angle. We discuss factors that contribute to business successes, emotional labour in professionalism, minding our own businesses and much more.
---
In this issue, we delve into our personal relationship with feeling "okay". We discuss the signs of not feeling "okay", how to cope when we are in this state, coming to a place of acceptance in our sense of self and achievements and much more.
---
In this issue, we examined the complex relationship between humans and technology. We discuss the similarity between technology and the human brain, how we can use technology to benefit our mental and physical health and much more.
---
In this issue, we explore the psychology behind our interactions with animals. We look into our relationships with companion animals, animals' mental health, how to navigate having animals as part of our dinner table and much more.
---
In this issue, we delve into our psychological relationship with the environment. We hope to bring insight into concepts such as the recent phenomenon of cottagecore, Singapore's relationship with eco-loss, the complex interplay of factors in environmentalism and many more.
---
In this issue, we showcase the psychological research into love and relationships (e.g., romantic love, neuroscience of love, attachment styles and love) and hope to elucidate some lay theories and misconceptions about love. We wish to also highlight the importance of self-love and how turning love inwards can sometimes bring forth new insight outwards.
---
In this issue, we have the pleasure of asking our homegrown national athletes questions about their individual journeys, motivations, and the costs of pursuing excellence. We also interviewed sport psychologists and coaches to better understand the behind-the-scenes preparations for our athletes to maintain peak performance.
---
In this issue, we delve into the complex modern day relationship Singaporeans have with food and eating.
---
In this issue, we discuss the complexities of anxiety against the backdrop of an ongoing pandemic.
---
In this issue, we tackle the most prevalent form of mental
disorders – depression.
---
In this issue, we turn our attention to the phenomenon of burnout – one that has plagued every Singaporean at the workplace and in school.